Workshop
Movement, Imagination and Language
Sunday 7th of May | 13:00 – 15:30

An exploration of solo performance improvisation with a particular focus on the interaction between movement, imagination and language.
The question we will explore is "how does one thing become another?"
---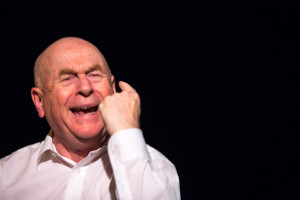 Andrew Morrish began to work with improvisation with Al Wunder in Melbourne, Australia in 1981.He was a founding member of Al's "Theatre and the Ordinary" and subsequently formed "Trotman and Morrish" (with Peter Trotman) in 1987.
They then performed  as a duet in Australia and the U.S. until 1999. Since 2000 he has primarily focussed on teaching and performing solo improvisation in Australia and Europe, whilst still maintaining ongoing duet practices with Peter and Sten Rudstrom.
---
Performance:
Sunday 7th of May 20:00
The next one
Solo improvisation
__________________________________
What can I say? It's an improvisation festival, you know what improvisation means and you know what solo means.
I will do my best to enjoy it.