Performance
Thursday 4th of May | 20.00                                              
Piece No. 1

Ensemble w/ Britta Pudelko, Ingo Reulecke and Thomas Gerwin.
BIT — dance. music, minimalism – a table, three chairs, some other sounding objects.
BIT treats dance, performance and music as equal, mutually interacting essences that go beyond simple portrayals to allow what takes place on stage to be directly experienced spatio-temporally.
BIT aims to achieve the finest possible resolution and the maximum concentration of information in the free flow of artistic communication. These intentions, contrapuntally layered, permit a space of shared utilization, in which the focus is to be found between the physical and the musical-tonal presence and activity – gently fluctuating, with occasional spontaneous shifts.
---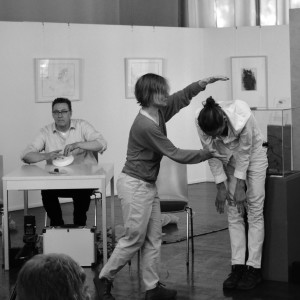 Britta Pudelko works in the fields of movement, improvisation, body awareness and healing. As a dancer her path has taken her from ballet via modern dance to contemporary and improvisation. Britta is also a qualified alternative health practitioner with an emphasis on the integration of body, mind and soul.
Ingo Reulecke is dedicated to improvisational work. In many cases this work occurs in close exchange with musicians. For him, one of the most fascinating aspects of the work is the possibility to react and create in the moment: The presence and awareness for the power of the moment is an endless research field.
Thomas Gerwin, is a classically educated composer and sound artist. He came into the field of electroacoustic music very early, later he intensively worked on soundscape composition, radio art and advanced improvisation. He composes for concert performances, dance, radio and creates sound installations. Artistic director of yearly International Sound Art Festival Berlin.
www.bitimprovisation.weebly.com
---