Performance
Friday 5th of May | 20.00                                              
Improvisation #17.3

Ensemble w/ Martin Clausen, Alexander Frangenheim, Ingo Reulecke, Sten Rudstrøm, Zufit Simon
In Streugut, we slam several media together: movement, speech, voice and a musical instrument. We eachcome from varied trainings; our approach and understanding of how to express a feeling state, mood, attitude and/or vibration differs. We find common ground in the shared ability to listen, sense and pay attention. Whether it is a flash of movement, or a repeated phrase, we notice each other, following the sound and dynamic of the room or the music of the improvisation.
---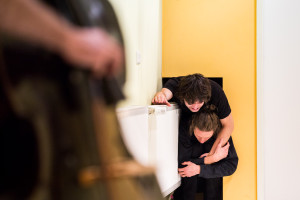 Martin Clausen as an actor, performer and director and is strongly involved in developing stage pieces. www.mclausenundkollegen.com
Alexander Frangenheim, double bass, has worked as an improviser since the late 1980's and was a member of vario-34 and ensemble Zeitkratzer. www.frangenheim.de
Sten Rudstrøm, met Ruth Zaporah in 1986, developer of Action Theater™ and has continued to work with Action Theater™ and other forms of improvisation since that time. 
www.stenrudstrom.com
Ingo Reulecke studied choreography at the college of the art "Ernst Busch" Berlin after completing his training in contemporary dance.
 Guest lecturer at the college the art "Ernst Busch" in Berlin and at the Palucca Hochschule in Dresden since 1995. www.ingoreulecke.com
Zufit Simon, dancer and choreographer, was born in Israel and based in Germany since 1998.
One of her latest piece "I LIKE TO MOVE IT" was presented at the German Dance Platform in Kampnagel Hamburg February 2014.
---