Workshop
Realtime Compostion

Wednesday 3rd of May | 13 – 15:30
The main idea of this workshop is to create a present and functional body which can interact with different media (sound, speech, dance) in time and space.
We will work under the umbrella of realtime composition, developing a kind of conversation between different media that make sense together. By "sense"  what is meant is an intrinsic phenomenon which might happen in an open-minded exchange.
Through focused listening, we will form a close connection to sound that will, also, help to create a strong connection to the idiosyncratic worlds of our bodies.
A lot of the work will concentrate on the idea of seeing and being seen. These are main ingredients for tuning into improvisation and performance work in general.
---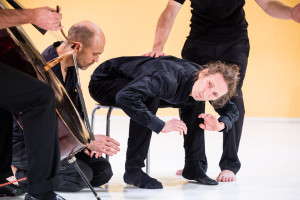 Ingo Reulecke studied choreography at the college of the art "Ernst Busch" Berlin after completing his training in contemporary dance.
1994 and 97 study grants from the Berlin Senate for New York City.
Guest lecturer at the collage the art "Ernst Busch" in Berlin and at the Palucca Hochschule in Dresden since 1995.
1998/99 DAAD scholarship for a year in NYC.
2009 Co-production with L. Matthaei for the site specific work "2109"
2009 cooperation with the iranian director Ayat Najafi for "Lady Teheran"
2010 `Sender Weimar`, ( Kunstfest Weimar ) site specific installation in cooperation with Lukas Matthaei & 2012 ́urbanscape ́ a site specific installation in berlin
2012-2014 Reulecke lead the site specific project with 11 different projects involved "bauhaus tanzen". A collaboration between Bauhaus Dessau, Anhaltisches Theater Dessau, Technical University Berlin, Inter-University Center for Dance Berlin.
Since 2004 Ingo Reulecke has a professorship in choreography and is leading the dance departement in the college of the arts "Ernst Busch" Berlin.
From 2006-2012 he started the directorship in the co-operative dance education centre berlin.
 http://ingoreulecke.com
---
Performances
Thursday 4th of May | 20.00
Piece No. 1  — Ensemble w/ BIT
Friday 5th of May | 20.00
#17.3 — Ensemble w/ Streugut