Workshop
a tactile voice
Wednesday • 4th of May • 930-1200

In this class we explore the sound as tactile vibration through "hands-on" and "voice-on" work in partners (spine-toning), as well we play with the fluid and percussive qualities of vowels and consonants, discovering in the 'dance of the articulators' an endless pool of ideas for vocal improvisation. Going back to this micro level of coordination, we access the possibilities of language as music, and organize the elements of pulsation, sound texture and melody through collective instant compositions. Please bring something you can use as a personal blindfold (a scarf or alike).
---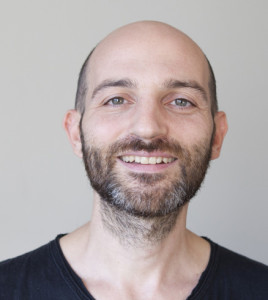 Alessio Castellacci is a performer and sound composer based in Berlin. He teaches his approach to voice & movement improvisation "the synesthetic voice", which combines his studies in developmental psychology, contemporary dance and music composition/sound design. He collaborates as a performer, sound composer and voice coach with different artists in Berlin and abroad. He is the initiator of the yearly training programs SMASH Berlin and The World is Sound (TWIS). As a music producer, he is part of the ambient duo Morphield with guitarist Christian Grothe and produces chill-out downtempo under the moniker Gaia Waves.
www.the-world-is-sound.com, www.smash-berlin.com
www.morphield.bandcamp.com, www.gaiawaves.bandcamp.com
---
Performance  
Saturday 6th of May | 20.00                                       
Voicescaping
Voice Solo
You are invited to join an intimate space of listening, where I follow impulses and see how they ask to be organized into pulsations and textural conglomerates. It is a sound-contemplative practice, which does not take as much into account the dramaturgical, the narrative, the performative, but rather focuses on tuning in the music of the human voice on a primal level.