Workshop
Sensing, Perceiving, Performing

Saturday 6th of May | 9:30 – 12:00
Our senses begin as potential, developing in response to stimulation and experience. Perception is the process of interpreting information based on our past experience, present circumstances and future expectations. The quality and dynamism of our senses and perceptions is reflected through and in our actions. In this workshop we explore the multiple sensory pathways and their interrelationships, allowing them to lead our improvising body to new encounters with ourselves, and the world around us. We seek to repattern habitual responses to the sensory information, and expand our expressive range. Touch, movement and sound will all be utilized in our practice.
www.satupalokangas.com
---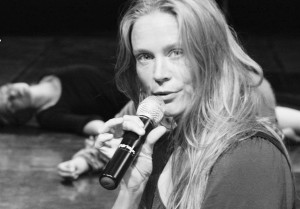 Satu Palokangas is a performer, facilitator and a somatic movement therapist whose work is rooted in somatics, ecology, bodywork, improvisation and psychophysical practices. Intrigued by transformation and change, her work is both subtle and fierce, as she guides her students into meeting the many parts of themselves. She is currently on the faculty of Eino Roiha Institute's Dance and Movement Therapy Training in Finland and regularly teaches in dance/theater institutions and festivals around Europe and the US. Satu is certified as a Laban/Bartenieff Movement Analyst, Dynamic Embodiment Practitioner, Somatic Movement Educator in Body-Mind Centering® and ISMETA registered Somatic Movement Therapist and Educator. She holds an MA in Live Art & Performance Studies from the Theatre Academy of Helsinki.